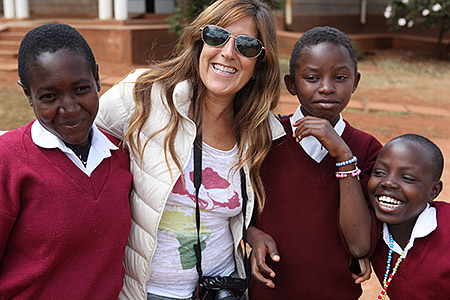 Working with March to Top has been a rewarding experience. I had been searching for an organization that would allow me to work with children in Africa. I was drawn to March to the Top because 100% of their donations went directly to their causes. Barbara's passion transcends upon you and makes you want to do everything for these kids. Therefore when I found March to the Top I knew it was the foundation I wanted to be apart of.
When I had the opportunity to go and volunteer at New Hope I never knew how amazing my time there would be. The children welcomed me in with their smiles, hugs and questions while teaching me how a simple life can be a happy life. Through the eyes of these children I was able to strip away the materialist elements of my life and realize how blessed we truly are. One would imagine an aids orphanage to be depressing and sad, but New Hope is just the opposite. These children have been given a new lease on life. They are educated, talented, responsible, and happy. M2T has given them a second chance at a bright future and has given me a rewarding new perspective.
– Alexandria Skouras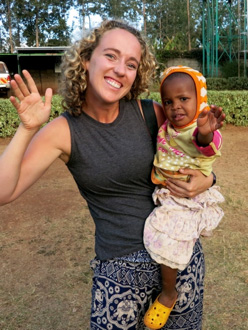 The city of Meru, Kenya is similar to most cities of Africa in that it is hot and bustling with people. The red dust seeps into everything along with the heat. But off the main drag, down an unpaved road, you come to a tall gate. When entering New Hope from the outside world, the first thing you notice is the colorful playground. After your eyes travel over the sturdy standalone structures, you notice the beautiful mountains that stand in the background. If the children are at school, a peaceful silence (very rare for Africa) rests over everything. If the children are at play, there is a blur of running, sliding, and swinging with a constant hum of laughs and yells.
This is the home of over 100 children who have nowhere else to go. Their stories are all different as are their characters. Most have endured nothing short of horror in their short lives. Abandoned, neglected, beaten and starved, it would be an injustice to their struggle to gloss over their hardships. But their previous suffering contrasts sharply with their new life at New Hope.
One of our jobs while at New Hope was to have the children write their story. They describe death, abandonment, running, child labor, and beatings in simple seven- year-old language. And then, they describe coming to New Hope.They didn't expect to be received. They didn't expect to have friends. Many had never had a home. They were scared, lonely, and used to an uncertain future. And then New Hope worked it's magic.
Now, the children play. They study hard and sit through three-hour church services on Sundays. They laugh when they catch balls and cry when they fall. They talk openly about being HIV positive and they have teachers and counselors who will listen.
And New Hope's magic doesn't cease at its borders—the New Hope clinic services the entire Meru community and many children outside of the orphanage attend New Hope's school. And besides all of this, New Hope's greatest achievement is the monumental progress made towards abolishing the stigma of HIV. This stigma causes incredible pain and suffering to HIV positive people and denies them their basic human rights. Therefore, many people deny their condition and take no medication or precaution. The result is the generation of innocent children at New Hope who received HIV from their parents. In combating this stigma, New Hope gives HIV positive patients a future and hastens the day when the disease will finally be stopped. Their progress is equal, if not greater, to the miracle the medication provides.
The children at New Hope taught me that children are resilient, but not unbreakable. They taught me that laughter is possible after hardship. They taught me to appreciate education and the value of a good meal. They showed me how little I know. New Hope taught me the necessity of discipline. It taught me the importance of the next generation. New Hope taught me safe havens do exist. It taught me what caring for people looks like. New Hope taught me to be excited for the future.
– Blakely Downs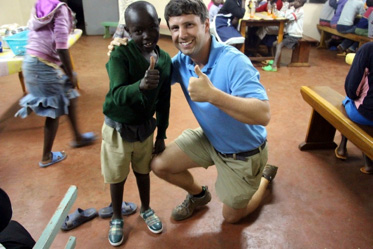 A Week with March to the Top's New Hope/AINA Project….and the Important Lesson I Learned
My first trip to Africa had me overwhelmed with the complexity of the continent's issues. I thought I understood many of the facts about African economies, healthcare, and poverty, but experiencing it first hand is entirely different. How can a land blessed with so many natural resources, full of such vibrant people, and the cradle of humankind be burdened with so many immense struggles and be left so far behind much of the modern world in so many ways? With all of the impediments to helping the people of Africa – shear numbers, government corruption, infrastructure, deciphering need from greed – how can someone effectively help? I found myself debating these questions over and over and arriving at the same lousy conclusion, and no solution – that it is much easier to not think about these problems and return to daily life, than to help address the issues directly.
My wife and I were fortunate to travel and volunteer for two months through Africa before spending a week working with March to the Top's New Hope Project in Meru, Kenya. New Hope is a pinnacle of what can be achieved when smart and dedicated people come together to make a difference. It's obvious that countless amounts of planning, hard work, and generosity went into making this vision a reality, and the result is spectacular. New Hope is an oasis for children who, by no fault of their own, live life in a dessert of challenge. The center provides them with the basic needs of today – clean water, food, shelter – and the foundations for their future – religion, education, sustainability, and mentorship. All of this set in a beautiful and expertly run environment. It is staffed by a combination of hardworking local Kenyans and volunteers who together create an environment for the children to heal, learn discipline, understand how to care for themselves, and successfully function with HIV.
After only a week, I could go on and on with praise about the March to the Top and New Hope organizations, the work that they do, and how they operate. And, together with the incredible children, New Hope gave far more to me than I could give to them. They gave me a life lesson and answer to my question about how to effectively help. When faced with an overwhelming challenge, God simply asks that we each do our best. Each of us has a different battle to fight in that war. For the children at the center, their battle is growing up to become healthy adults and how to transition into being productive members of society. My battle is how to best use the gifts I've been given to help those in need. After witnessing the children fight their battle, I gain strength and conviction in fighting mine. I'm deeply grateful to Roy and Barbara and their March to the Top Foundation for doing so much good for these children and, by so doing, creating a way for me to complete a small part of the good that is asked of me.
– Ryan Downs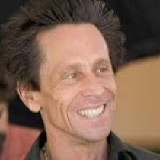 I took my children to visit the New Hope Orphanage in Kenya and it touched our hearts. M2T does incredible work, with love and transparency.
– Brian Grazer
My brother and I stayed at the New Hope Orphanage for a few days and couldn't believe what a joyful sanctuary it was for these kids, many whom were almost left for dead. As a donor, I saw firsthand that March to the Top spends every dollar for maximum impact. Whether you're giving $10 or $1000, rest assured that it's going towards improving the lives of beautiful children who need our help.
– Veronica Grazer and Richie Smiley
Everything they do is with complete transparency, built on the foundation of pure love and light.
–  Joseph Maria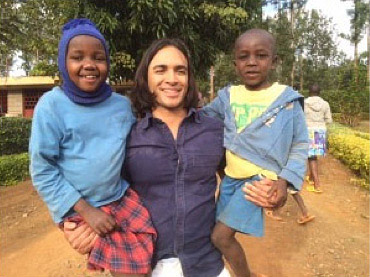 I am utterly in awe at the work you are doing for these forgotten children, out in a corner of the world virtually unknown to anyone else.
– Sharmil
This is brilliant work you are doing… A big heart is what I can identify you with. God bless each and every effort and plans that you have…
– Open Palm Foundation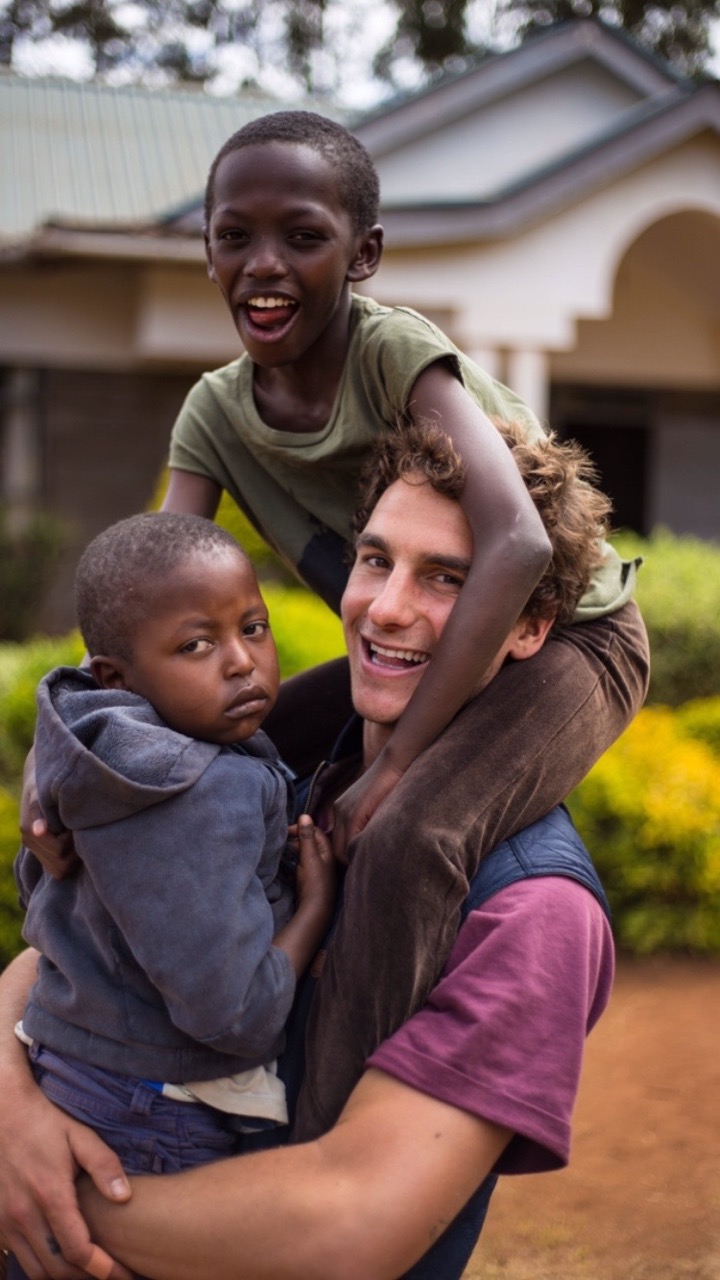 The beauty, the soul, and smile on these pure souls was priceless. It truly brought tears to my eyes. To know there are people out there with absolutely nothing, but can still have a smile on their face at the end of the day really makes you step back and realize how lucky we are. I am so grateful for March to the Top and the things it has taught me. This is only just one needle in the haystack for what experiences this charity has offered to me. I am so thankful. Much love always.
– Joey Francis
MEAK first came across Roy and Barbara when they visited us during one of our heart missions in Nairobi and watched an open heart operation on a very young child. They were blown away by the experience and immediately pledged their support for our myriad projects. MEAK is delighted to have the help of two such dynamic people, who's aspirations and objectives in Kenya so closely match those of ourselves. Visitors to Kenya soon realize that there is so much life changing help that is needed by the impoverished people of that country and good people with big hearts and the right outlook such as Roy and Barbara certainly do more than most.
Mike & Dee Belliere
Founders / Directors
Medical and Educational Aid to Kenya
It is because of you and your organization "March to the Top" that enabled me to spend time reading, dancing or simply spend time playing games with the children, allowed me to experience and understand that love has no boundaries. Today I look at my enriched life and can truly say that, God always gives us what we need, when we need it. I sincerely thank you both for being my vessel.
With gratitude,
– June Haynes
This is true dedication, and it's not easy what they do. But they get it done; food, clothing, medicine, shelter. Most of all a home and a school to learn for so many children.
– Monica von Neumann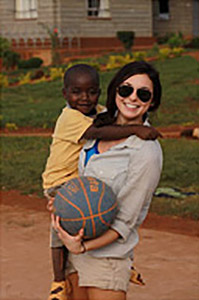 My name is Bailey Evans and I am a senior at the University of Montana. I was lucky enough to travel to New Hope orphanage this past Christmas with my Dad. We went with the intentions to teach the kids, learn about them, and do whatever was needed to be done. What happened was we taught the kids, learned about them, learned about ourselves and completely fell in love with every single child. Waking up each morning knowing I would get to go out and play with the kids, learn, teach and undoubtedly hear a TON of giggles was easily the best way to start each day. The time I spent at New Hope will be something I know I will cherish for the rest of my life. I plan to stay involved and watch these kids as they grow up into adulthood
– Bailey Evans
March To The Top does amazing things for many of the world's "forgotten" people, and does it without expecting praise or recognition. Visiting their New Hope School in Meru is one of the most moving and memorable experiences in my life. To see children who have been abandoned find love and a life is a life affirming experience. Barbara and Roy are my heroes.
– Dr. Peter Linneman
There is no bigger feeling than looking into the eyes of all the beautiful children and feeling the unconditional love.
"That is where the magic is."
– Sabrina Baldieri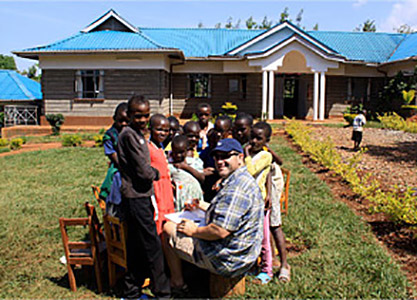 My daughter Bailey and I spent 8 days there in late December, 2011 volunteering. We came to teach the children English, math and science while they were on their Christmas break. Our days were filled with a series of wonderful interactions with the children. Their happiness was infectious and it is quite evident that these children are well cared for by the very loving staff and leadership at New Hope. Because of New Hope, the children now have the opportunity to grow up and flourish in a safe, loving and nurturing environment. We are very grateful to have been able to spend that time with them and very much look forward to returning!
– Randy Evans