CELEBRATING 10 YEARS
Help us reach new heights, as we climb Mt. Kenya August, 2016!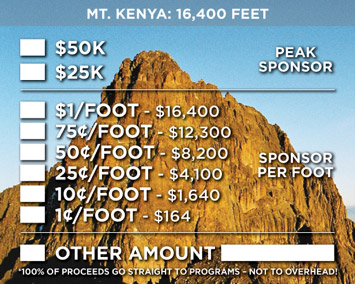 Help us continue to support the people and lands of Africa, where we are making a deep impact in projects spanning health, education and conservation.
March to the Top's Achievements over the past 10 years!
2006-2007
Climbed Mt. Kilimanjaro! March to the Top was born – thank you!!
Contributed to food programs and school supplies for the John Paul II School
Co-funded construction for the Esiteti Primary School
Provided scholarships to Starehe students
Provided financial support and supplies to St. Lucy's School for the Blind
Initiated support to St. Anne's Maternity Hospital (original home for New Hope)
Began annual support for the Amboseli Trust for Elephants and adopted a herd of elephants
Funded school supplies and provided financial support for the African Child Fund, Fanaka Schools
2008
Co-founded New Hope – AINA
Provided financial support for construction of classrooms and dormitories at Mt. Olive Academy for Girls
2010
Supported the Berklee College of Music African Scholars Program
Funded construction for St. Barbara Chapel at Mt. Olive Academy for Girls
Provided financial support for St. Francis Children's Village; a home, family and school for more than 600 children
2011
New Esiteti Primary School completed
Provided financial support for Associzone "Amici Di Ndugu Zangu"
2012
Funded a pediatric heart mission through M.E.A.K. at Nairobi General Hospital
Funded construction of New Hope – AINA School and Clinic
Funded the Dandora slum research project in conjunction with the University of Notre Dame's Ford Program
Funded Eye Mission at Esiteti School in conjunction with Kenya Wildlife Trust
2014
Camino Walk to raise funds!
Funded second eye clinic with M.E.A.K. at New Hope – AINA Clinic
Began annual support for the Kenya Wildlife Trust
Initiated annual support for "Save a Mind, Give a Choice"; children's education program through Lewa Conservancy
Supported Lewa Conservancy, the heart of wildlife conservation, sustainable development and responsible tourism
2015
Established a 5-year strategic plan
Established office of March the Top and hired our Director of Operations, Nicole Broida!!
2016
CLIMBED MT. KENYA – 10 YEAR ANNIVERSARY!
Funded a Heart Mission through M.E.A.K. at Nairobi General Hospital
Provided funding for the construction of a boy's dormitory for New Hope
Funded an eye and dental mission at Isiolo County Hospital in Lewa
Sponsored New Hope – AINA girls through secondary school
Contributed to completion of the Dandora Visitation Maternal-Child Health Center and our goal is to establish an endowment – with your help!